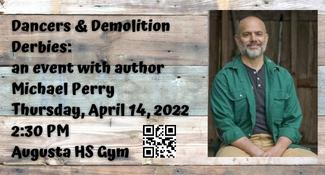 Mike will share humorous stories based on his experiences. Book Signing and Sales to follow. Doors will open at 2:00 PM. Masking optional.
Augusta Friends of the Library will be hosting this event with the Augusta Area Foundation, Augusta School District, Augusta Senior & Community Center, and Friends of the Cadott Libraries.
What We Do
The Friends of the Library provide the Augusta Memorial Library with funds that are used for guest speakers, educational programs, handouts and craft materials, and maintaining our Reading Garden.  Our primary fundraising efforts come from an annual book sale during Augusta's summer celebration and an annual donation letter.  Periodically we host patron appreciation events that feature door prizes and tasty treats. The Friends are always looking for new members and there are several ways that you can volunteer. Check out our brochure for more details.
Friends President,  Marty Rugotzke
friends@augustalibrary.org
Hours 
Monday: 10am - 5pm
Tuesday and Wednesday: 9am - 7pm
Thursday and Friday: 10am - 5pm
Saturday: 10am - 5pm
Sunday: Closed